Testimonials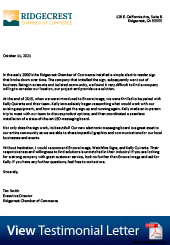 Ridgecrest Chamber Of Commerce
October 11, 2021
"In the early 2000's the Ridgecrest Chamber of Commerce installed a simple electric reader sign that broke down over time. The company that installed the sign, subsequently went out of business. Being in a remote and isolated community, we found it very difficult to find a company willing to consider our location, our project and provide us a solution.
At the end of 2019, when we were introduced to Encore Image, we were thrilled to be paired with Kelly Quirarte and their team. Kelly immediately began researching what would work with our existing equipment, and how we could get the sign up and running again. Kelly made an in-person trip to meet with our team to discuss product options, and then coordinated a seamless installation of a state-of-the-art LED messaging board.
Not only does the sign work, its beautiful! Our new electronic messaging board is a great asset to our entire community as we are able to share impactful graphics and communications for our local businesses and events.
Without hesitation, I would recommend Encore Image, Watchfire Signs, and Kelly Quirarte. Their responsiveness and willingness to find solutions is unmatched in their industry! If you are looking for a strong company with great customer service, look no further than Encore Image and ask for Kelly. If you have any further questions, feel free to contact me.
Sincerely,"
Tim Smith
Executive Director
Ridgecrest Chamber of Commerce
---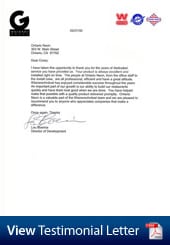 Wienerschnitzel
"Dear Corey,
I have taken this opportunity to thank you for the years of dedicated service you have provided us. Your product is always excellent and installed right on time. The people at Ontario Neon, from the office staff to the install crew, are all professional, efficient and have a great attitude.
Wienerschnitzel has enjoyed considerable success throughout the years. An important part of our growth is our ability to build our restaurants quickly and have them look good when we are done. You have helped make that possible with a quality product delivered promptly. Ontario Neon is a valuable part of the Wienerschnitzel team and we are pleased to recommend you to anyone who appreciates companies that make a difference.
Once again, Thanks"
Lou Boemia
Director of Development
---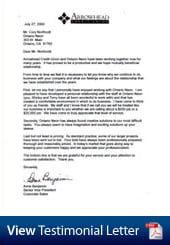 Arrowhead Credit Union
"Arrowhead Credit Union and Ontario Neon have been working together now for many years. It has proved to be a productive and we hope mutually beneficial relationship.
From time to time we feel it is necessary to let you know why we continue to do business with your company and what our feelings are about the relationship that we have established over the years.
First, let me say that I personally have enjoyed with Ontario Neon. I am pleased to have developed a personal relationship with the staff at Ontario Neon (Cory, Shirley and Terry have all been wonderful to work with) and that has created a comfortable environment in which to do business. I have come to think of you as friends. My staff and I know that if we call you we will be treated like our business is important to you whether we are calling about a $200 job or a $20,000 job. We have come to truly appreciate that level of service.
Secondly, Ontario Neon has always found creative solutions to our most difficult tasks. You always seem to have imaginative and exciting solutions up your sleeve.
Last but not least is pricing. As standard practice, some of our larger projects have been sent out to bid. Your bids have always been professionally prepared, thorough and reasonably priced. In today' s market that goes a long way to keeping your customers happy and we appreciate your professionalism.
The bottom-line is that we are grateful for your service and your attention to customer satisfaction. Thank you."
Sincerely,
Anne Benjamin
Senior Vice President, Corporate Sales
---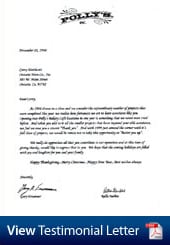 Polly's, Inc.
"As 1998 draws to a close and we consider the extraordinary number of projects that were completed this year, we realize how fortunate we are to have associates like you. Opening two Polly's Bakery Cafe locations in one year is something that we never even tried before. And when you add to it all the smaller projects that have required your able assistance, we feel we owe you a sincere 'Thank You'. And with 1999 just around the corner with it's full slate of projects, we would be remiss not to take this opportunity to 'butter you up'.
We really do appreciate all that you contribute to our operation and at this time of giving thanks, would like that express that to you. We hope that the coming holidays are filled with joy and laughter for you and your family."
Sincerely,
Gary Drummer & Rella Barbee
---
Wendy's International, Inc.
"This is a brief letter to thank you for your prompt service and hard work. Throughout our lenghty relationship, Ontario Neon has been a constant example of dependability to us. Your signs are not only produced to our demanding standards, but always installed within our demanding deadlines. Your installation crews are well-trained, efficient and operate well with other trades.
We at Wendy's believe that our signs are a very important part of our marketing plan and consider Ontario Neon a valued partner. Please feel free to use us a reference for your company and should the occasion arise that we might recommend you to other companies, we will certainly be happy to do so.
Thanks Again,
Nick Rice
Field Construction Manager