Scoreboard Signs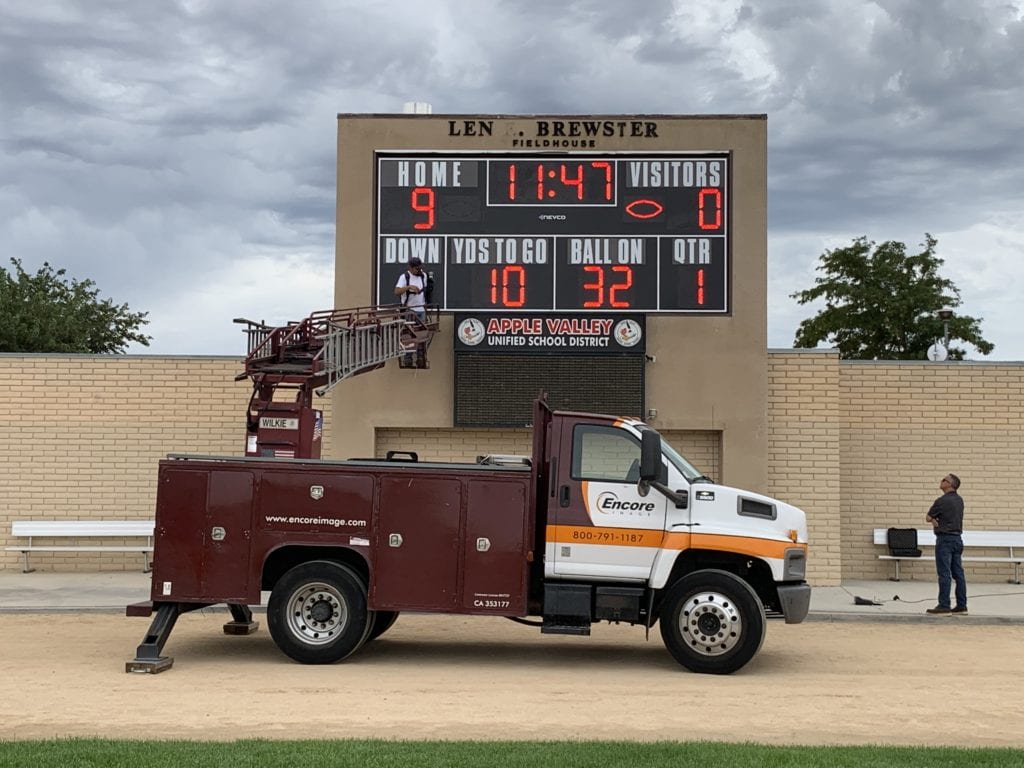 Scoreboard signs are easily one of the most defining aspects of a sporting event. From scoring memorable moments to engaging both athletes and audience members alike, a custom scoreboard sign for your athletic organization can maximize its value and enhance the overall experience of any given sporting event. 
For decades, Encore Image has worked with sporting venues and community centers to establish the highest standard of custom design, manufacturing, and functionality for signage. No matter if your sports association is at a school, arena, park, or stadium, Encore Image is dedicated to producing turnkey solutions for your custom scoreboard signage. 
What Are the Benefits of Custom Scoreboard Signs? 
Custom scoreboard signs from Encore Image provide an abundance of advantages to athletic organizations and sporting facilities. Whether our clients have a large sports stadium or a small field, Encore Image fully integrates visible and engaging scoreboards with unique features. There are several benefits of getting a scoreboard sign customized to the needs of your single sport or multi-purpose events.
Visual Benefits of Scoreboards:
Versatile lighting options (backlit or LED) 

LED messages 

Custom art designs for sports facility graphics and logos

Custom coloring and lettering for sports team graphics and designs

Improved branding identity for sports center or sports organizations

High-quality building materials and construction
Functional Benefits of Scoreboards:
Enhanced crowd engagement and sporting atmosphere

Real-time sports statistics and timekeeping (shot clock, innings, strikes, outs, and more)

Easy-to-use interface for referee, table officials, and scorekeeping 

Increased revenue from advertisement and sponsorship space

Interchangeable advertisement and sponsorship placements

Branding for special off-season or multi-purpose events 
Who Needs a Custom Scoreboard Sign?
Encore Image can produce custom scoreboard signs for various athletic institutions and sports markets. We work to create lasting and comprehensive solutions, adapting to the schools' needs and athletic facilities of all kinds. Encore Image can visually design, efficiently fabricate, and comprehensively install your scoreboards signs from start to finish. 
Schools
K-12 Scoreboard Signs
Elementary, middle, and high school sports can offer various athletic activities to entertain, educate, and maintain the health of youth communities. By installing a school scoreboard sign for a gymnasium, education institutions can keep their students more engaged and excited for athletic learning environments. 
Colleges and Universities
Encore Image can develop and manage integrated signage projects for indoor or outdoor college sporting stadiums. Both public and private college sports facilities can be accommodated with multi-purpose scoreboards and stadium scoreboards. College scoreboard signs will not only enrich the audience experience, but they also offer the highest build-quality and design standards to accommodate citywide or national attention.
Athletic Facilities
For public or private recreational centers, a scoreboard sign can create a more professional environment and athletic atmosphere for gym members of all experience levels. Basketball scoreboards, volleyball scoreboards, and other indoor scoreboards can elevate the experience of intramural sports leagues and events. Encore Image also develops custom scoreboard signs for extracurricular programs, professional sports complexes, and local gyms.  
Our Satisfied Customers
Encore Image has spent decades mastering the creation of unique scoreboard signage for schools and sports facilities across California, including:
Perris High School

Fontana High School

Apple Valley High School

West Covina High School
Interested in Learning More About Custom Scoreboard Signs?
If you would like to learn more about getting started on your custom scoreboard sign project, please contact our primary phone at 1-800-791-1187 or fill out our contact form.