Multi-Tenant Signs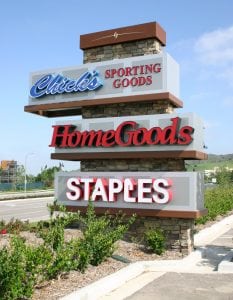 Multi-tenant signs can be built either on tall pylons or close to the ground as monument signs. They have the space available to place the names of several businesses for developments that serve a number of tenants.
Multi-tenant signs are most often built to advertise businesses in:
Shopping centers
Office buildings
Malls
Any other development with several tenants who need signage
We can manufacture these signs to match the architecture of your property to give your businesses a cohesive look. Multi-tenant signs bring attention to your development as well as your tenants. We offer many styles of signs and can create just what your businesses need.
Encore Image, Inc., can design, build, and install your custom multi-tenant signs as well as help with permitting and maintenance. We take pride in giving our customers exactly what they need while building personal relationships.