School Signs
School Signs by Enore Image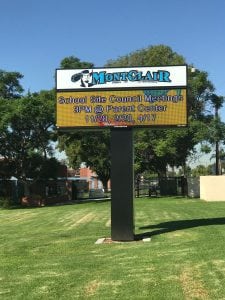 The signage outside of your school is an essential means of communication between the administration and the community. Students, parents, and faculty all need to be informed of certain dates and events, and our low maintenance, brightly illuminated LED school signs can help your school keep everyone up to date and informed.
School signs can:
Advertise events such as dances and fundraisers
Inform parents of important dates
Broadcast important information to the local community
Show school spirit while also keeping everyone informed
At Encore Image, we want to help you show your school pride while also being able to get your messages to the people who need them. We will work with you through the entire process, from design to manufacturing to maintenance, to make sure you get what you need for your students and community.